The next several posts are going to be thoughts and observations from my recent vacation to Massachusetts.
When my boyfriend told me that we were going to leave right after he got off work and drive through the night, I must admit that I thought he was crazy. However, I was like, whatever, he's in charge. So, I picked him up at 5 p.m. on a Friday and we jumped on the interstate and began the long journey from Louisville. He told me he had discovered that one of the places in West Virginia that we would be traveling though was one of the best spots to stargaze. Around 11:30 p.m., we stopped in Sutton, WV for gas. There wasn't much there besides the gas station, so he decided that we could probably get a good view of the sky there. It was  a very clear and beautiful night. We drove down the street and stopped the car and got out. It was so dark we could barely see anything in front of us. But as our heads turned upward, we could see hundreds of lights twinkling through the pitch black sky along with a perfect half moon. I have never seen so many stars shining so brightly. My mind went to Psalm 19:1: "The heavens declare the glory of God; the skies proclaim the work of his hands."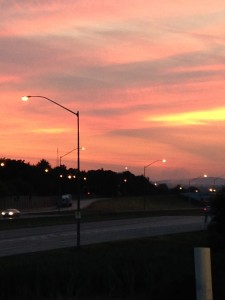 As we got in the car and continued on our journey, I was so thankful and amazed for what God had showed us that night. But, in my quiet thoughts I heard God tell me that it wasn't only that night. He gives us both big and small glimpses of his greatness all the time. He showers us with blessings and reminders every single day. The problem is that we usually don't take the time to pull the car over and notice. We are always in a rush to get from one place to another. We always have  someone important to meet or something urgent to do. We don't allow ourselves to stop and see. In that moment I felt God promise that I would find glimpses of His glory everywhere if I was willing to slow down, step out and open my eyes. As confirmation of this promise, we were greeted by a beautiful sunrise just before crossing the New Jersey state line.  The sky was streaked with shades of orange and coral and blue. All of the colors blurred together to create a work of art more beautiful than any artist could capture on a canvas. Something this beautiful could only be done by the Master Creator himself.
Why are you rushing?
What is more important than this moment right now?
Slow down, step out, open your eyes.