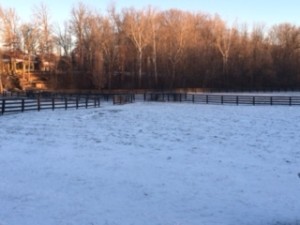 Wednesdays are one my most favorite days. I usually begin my day by stopping at a place called the Iron Bell. It is a beautiful place where you can go to pray and spend time with the Lord. I grab a seat and listen to the music with my Bible and journal waiting to see what the Lord wants to speak to me that day.
There is a large door at the front and center with glass windows that you can see out. A couple of weeks ago, snow had covered the ground with a thin white layer. As I sat listening to the music and looking at the snow outside, I became very aware of the warmth that surrounded me. It felt safe and strong and peaceful. God used it is a gentle reminder that no matter what is going on around me, He is my shelter and my protection.
Psalm 46 says:
"God is our refuge and strength, an ever-present help in trouble.  Therefore we will not fear, though the earth give way and the mountains fall into the heart of the sea, though it's waters roar and foam and the mountains quake with their surging." (1-3)
I think its interesting that even though He is able, God doesn't always stop the chaos that is going on around us. Instead, He holds us tight and promises to keep us safe if we allow Him to do so. We don't have to be afraid; all we have to do is trust Him.
"So do not fear, for I am with you; do not be dismayed, for I am your God.  I will strengthen you and help you; I will uphold you with my righteous right hand." -Isaiah 41:10
This verse from Isaiah is one that I committed to memory a long time ago.  I love the image this verse invokes in my mind.  I picture myself curled up in a ball in God's great big hand whenever I repeat that verse in my head. I think I know now what it feels like inside His hand.